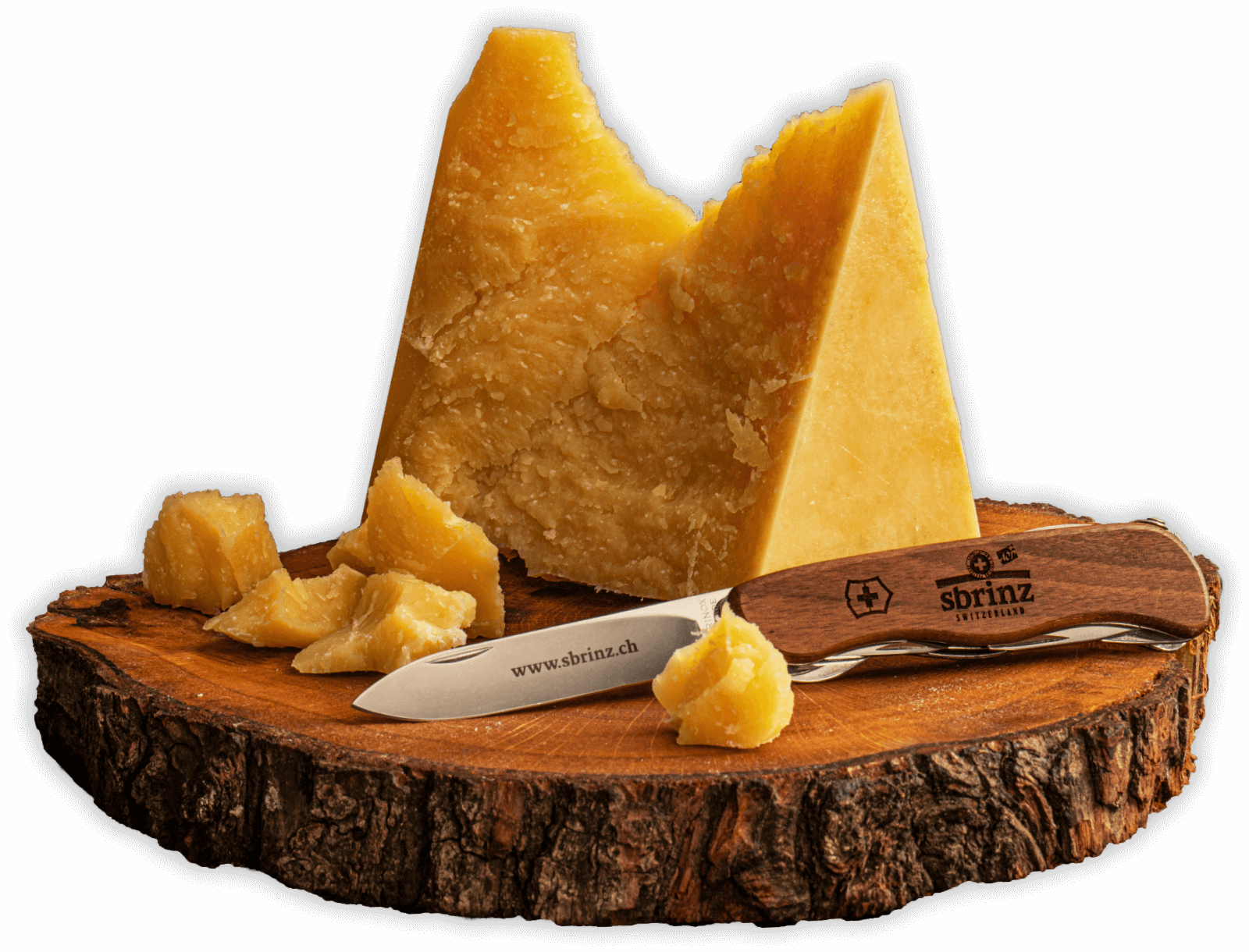 Welcome to the world's most natural culinary delight – welcome to Sbrinz! Sbrinz stands for 100% natural production in harmony with nature, animals and human beings. Sbrinz cheese dairies and Sbrinz milk producers have agreed to adhere to stringent regulations: no use of additives or genetically modified organisms (GMOs). Sbrinz is almost exclusively produced from milk from the Swiss Brown Cow. The cows feed exclusively on grass in summer and hay in winter – no silage or feedstuffs of animal origin or feed urea may be used.
Our products
Sbrinz presentations
Sbrinz chunks
Sbrinz chunks and an excellent glass of wine or sparkling cider are bound to be a hit with your guests. Use a Sbrinz cutter to break (not cut!) some morsels off a piece of ripe Sbrinz cheese. Would you like to order a Sbrinz cutter now?
Sbrinz sliced curls
This Central Swiss cheese, with its corners and edges, can also be very tender... in the form of wafer-thin sliced curls. You can either buy pre-packaged Sbrinz sliced curls or simply carve them yourself using a Sbrinz slicer or ordinary peeler. Would you like to order a Sbrinz slicer and perhaps the matching Sbrinz Fix for safe slicing?
Sbrinz grated cheese
Suitable for pasta, risotto or au gratin dishes: the culinary range of grated Sbrinz is almost unlimited. Its spicy aroma adds the perfect finishing touch to fine dishes.